UWS Message Scheduler Extension
The UWS Scheduler, also known as the Ultimate WP SMS Scheduler Extension, enables you to conveniently schedule messages to be sent at a later date and time. This feature is particularly useful when you need to send recurring batches of messages or when you prefer to schedule messages overnight, freeing you from the need to remain in front of your computer.

The UWS Message Scheduler Extension also allows you to create a 'schedule plan'. A Schedule Planner allows you to send out a series of messages to group members, based on the date when they joined the group. The joining date could be the day when they first subscribed, or the date when you, as the site administrator, manually added them to the group.
The extension plugin adds new fields to the existing UWS messaging screen, allowing you to specify a description for your schedule and to select the time and date when the schedule will run.
You can also specify whether you want the schedule to be repeated daily, weekly, monthly or annually.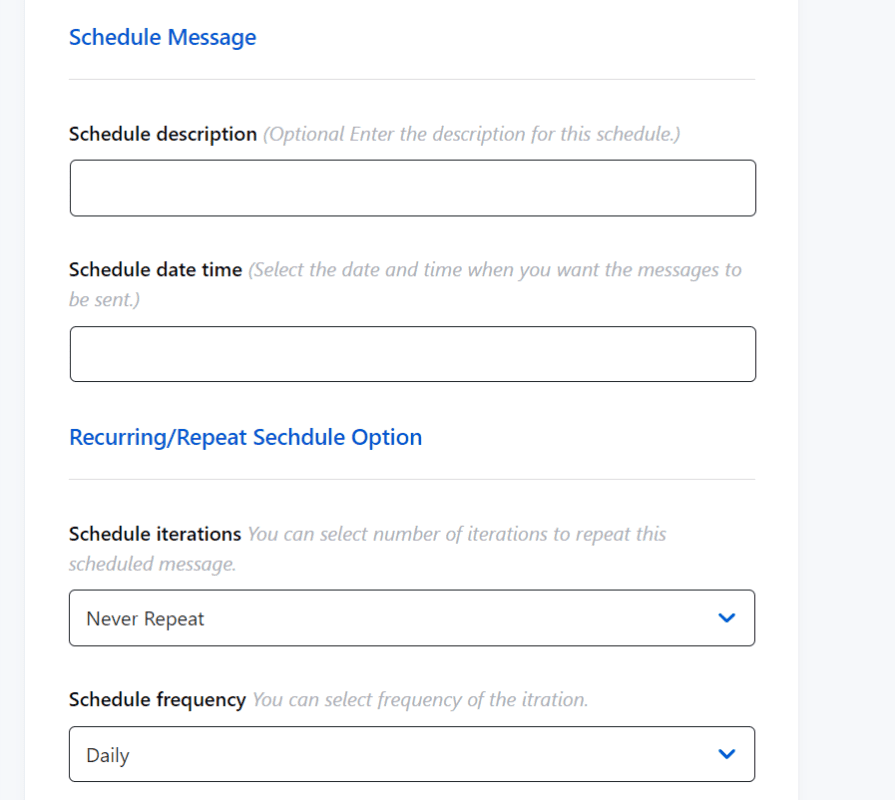 UWS Scheduler Extension Fields
A new tab, the "Schedule Manager", allows you to see the status of your schedule and the status of completed scheduled jobs.
Clicking on an existing schedule, will open up the schedule details, allowing you to edit the content of the message and the schedule time and date.
The image below shows an example of a schedule plan for a group called "Schedule Planner Test Group". The plan consists of 4 items; messages will be sent out to members, 1 day after they joined the group, 2 days after they joined etc.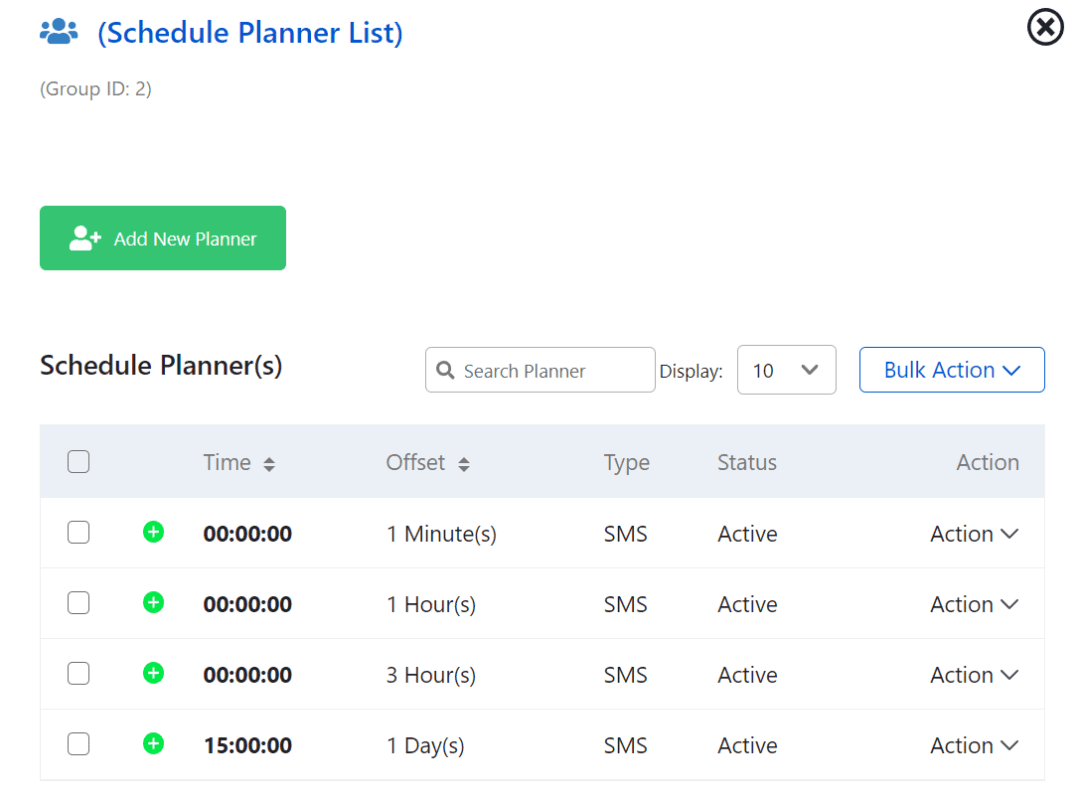 UWS Schedule Planner
To avoid timeouts occurring when processing large batches of scheduled messages, the messages are sent out in batches of 150 at a time. If more than 150 messages have been scheduled, the plugin will process all them in several batches. For example, 450 scheduled messages would be processed in 3 batches each of 150 messages. Assuming that a regular cron job has been created, there would be a 10 minute interval between each batch. The size of the processing batch can be adjusted in the Ultimate WP SMS Pro settings.
Version requirements.
The extension requires either Ultimate WP SMS Pro V1.6 and above,
Installing the UWS Message Scheduler Extension
Install the plugin just as you would any other WordPress plugin. From the WordPress dashboard, click Plugins-Add New, then Upload plugin and browse to the zip file you downloaded from this site.  Then activate the plugin.
Click here for further details about configuring the Scheduler Extension.
Merge Tags
The UWS Message Scheduler Extension, adds some additional merge tags that can be included in you messages. These include:
%date% – the date when the message is sent.
%time% – the time when the message is sent
%timestamp% – The timestamp of when the message is sent.
See Supported Merge Tags for the full list.